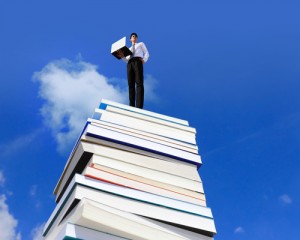 It has often been said that knowledge is power, and for good reason.
Knowledge can enable us to improve, protect, help, or hurt, and which of these we choose can decide the meaning in our lives.
The question is, though, is knowing actionable or is it just the first step to more knowing, and do those steps lead to effective results? In short, is there a disconnect between learning and doing?
I'll give you a real life example. One of my very good friends with a Ph.D. and two Masters degrees decided he wanted to learn to code at the same time as my co-founder a year and a half ago. This is a brilliant guy. He came in to my office with a whole stack of books explaining how it works, and today, he knows all about it. He has a very good understanding and he can answer questions for you.
However, he hasn't built anything. He's tried and it hasn't gone so well. He "knows" all about it, he's studied it, but he can't "do" it. (My theory is the fact that he was taught "not to get the answer wrong" is the impediment.) Meanwhile, my co-founder screws up stuff left and right then fixes it and makes it work, and I'll be damned if she isn't starting to get good at this. Do you see my point?
Our learning structures weren't traditionally built to learn from getting the answer wrong, but instead to get the answer right at any cost. (More on this from Sir Ken Robinson.) Unfortunately, the accelerated environment that we now find ourselves in doesn't lend itself well to the fear of wrong answers.
As those in the world of startup ventures know, you have to gravitate toward trying stuff out and failing, and then learn quickly in order to iterate. Being scared to get the answer wrong adds too much time to this equation. I've struggled with this issue myself, but even Steve Jobs, as picky as he was about getting every product right, stressed not being afraid to ship and take risks or make mistakes, because that's the only way you really learn.  Much like natural selection, in order to evolve, ideas need to become mistakes just like animals need to die.

The point is that going forward, there may need to be more emphasis on getting people to learn coping and adapting skills to help close the knowing/doing gap.
My conclusion? Perhaps the real answer is this:
All knowledge is potentially all powerful, but it depends on what you do with it.

Go forth learners, and don't be afraid to change the world.